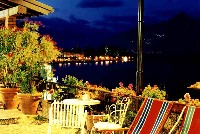 Ostello AIG La Primula

Hostel

Italy
>> Menaggio

Via IV Novembre 106

tel. +39.0344.32356
Fax: +39.0344.32356
<!B>menaggiohostel@mclink.it
This Hostel in Menaggio is the ideal spot for a pleasant holiday. Thanks to its panoramic position, homey atmosphere and traditionally prepared cuisine (home-made yoghurt, jams, pesto, pizza, etc.), it creates a warm atmosphere that travellers recognise from the first moment. ...



13.50 EURO


Click for prices and details